Corrugated UHMWPE Chemical Hose 200PSI
Application:
Acid Discharge
Acid Suction & Discharge
Chemical Transfer
Chemical spray hose
Sizes: 1″, 1-1/4″, 1-1/2″, 2″, 2-1/2″, 3″, 4″, 6″, 8″
Features:
Abrasion and Ozone Resistant: The cover protects the body from stiffening and cracking caused by ozone and UV exposure. It also added abrasion resistance for extended hose life
Non-Kinking: The internal helical wire structure helps prevent kinking.
Multi-Ply Acid Discharge Hose: Designed to handle most of common acids and alkali solutions under pressure.
Multi-Ply Acid Suction Hose: This hose features a high-tensile textile cord with wire helix to prevent collapse under vacuum conditions.
Temperature Available: From -40℃ to 120℃
Structure:
Inner rubber: UHMWPE
Reinforcement layer: synthetic high tensile textile with helix steel wire, static ground.
Cover rubber: EPDM synthetic rubber
Safety factor: 4:1
Color: Blue/Green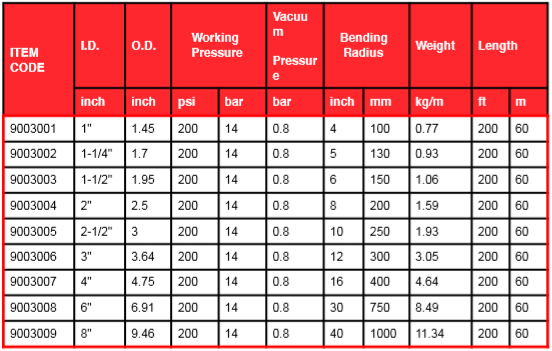 * For more information of JYM products, please contact us. If you would like a quotation or further information, please fill in the form below and we will reply to you within 1 working day.