JYM industrial water hose range offers multiple pressures and sizes to sit the demands of a wide variety of applications. We also offer weather and abrasion resistant hose options for robust service in harsh environments. The range also includes multipurpose transfer hoses for versatile operation. Within our range we have hoses suitable for almost every function and offer a wide range of configurations to suit the needs of your application that are easy to install.
Suction and discharge hose can not only sucking and discharging sands, gravel and bulk materials, it can also be used for water transferring, suction and discharging, which is named as water rubber hose.
Water rubber hose, also named as water suction hose, rubber water hose and water discharge hose, is a type of rubber hose used for transferring and discharge water. Water rubber hose can be used in both positive pressure and negative pressure working environments for sucking and discharging industrial water and neutral liquid in normal temperature. It is widely used in mine, factory, agriculture, civil and architectural engineering. Additional, it can be used as water conveying hose for agriculture irrigating.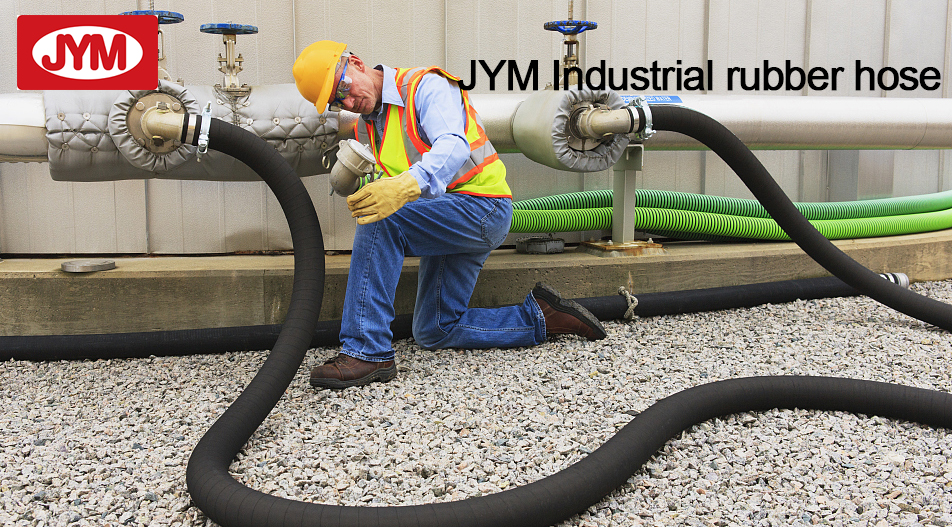 Structure of the JYM water rubber hose
Inner layer. Synthetic rubber, such as NR, SBR, BR and other abrasive resistant rubbers.
Reinforcement layer. Braided textile fibers or cord thread and spiral steel wire reinforcement.
Outer layer. Synthetic rubber with abrasion and wear resistance smooth surface.
Connection type.
Hose fitting: Flange,Camlock,Clamp.
Advantages of JYM water rubber hose
Abrasion and wear resistance. Rubber material on inner and cover layer supplies excellent abrasion and wear resistance performance.
High loading capacity. Steel spiral wire and fabric reinforcement layer supplies ease of handling and excellent flexibility as well as high loading capacity.
Abrasion and age resistance. Outer rubber material supplies excellent abrasion and age resistance.
Chemical resistance. The water rubber hose has excellent chemical resistance to the agricultural insecticides, pesticides and other agrochemicals.
Anti-bending. The spiral reinforcement wire supplies excellent anti-bending performance and solid hose structure.
Good performance in vacuum condition. The water rubber hose can work normally under 80 kPa (600 mmHg) vacuum conditions.
Large burst pressure. The burst pressure of water rubber hose is no lower than 3 times of working pressure, which can be used in the high pressure conditions.
Specifications of water rubber hose
Material: synthetic rubber, textile fiber and steel wire.
Temperature range: -20 °C to +80 °C.
Length: max. Between 40~100 meters.
Working pressure: 10 bar/150 psi, 18 bar/270 psi, 20 bar/300 psi.
Burst pressure:20bar/300psi, 30 bar/450 psi, 60 bar/900 psi.